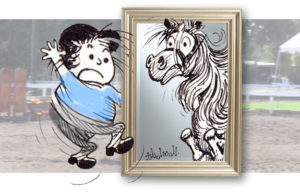 My Mom died. And my horse knew it.
These past months I prided myself in being Ready. I mean, my mom was in her eighties. Plenty of time to say goodbye, right?  No regrets.
And yet… days of brimming tears from nowhere, I was a ticking waterfall.  I was off kilter.
I went to a horse show a week later.  Of course I could work through my grief.  No one said anything.
My pre-pre-pre-green OTTB was tense. He spooked and hallucinated in a ring he had been in a hundred times.
He spun me off. In the courtesy circle. At the WALK.
I felt disconnected. So did my horse. From ME.
I couldn't vent if I wanted to, it just came out as blubber. So my horse did it for me. On the way home, I sobbed. No more calling my mom to tell her how the horse show went.  We had shared the successes, pondered the challenges, brainstormed solutions.
Looking back, this was one of those Life Lessons that the lesson is to Get Through It.  Go through the process, figure out what you need, take a breath, give yourself the space to grieve.
And if you have any doubts, observe your horse, he will reflect back atcha.