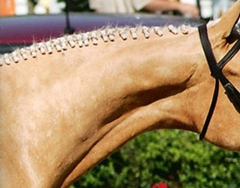 Braiding
QUESTION: How do you feel about braiding? Does it detract from or add to a horse's appearance? Does your answer differ for equitation?
Braiding started in the hunting field to prevent briars and thistles from becoming lodged in a horse's mane. These days, most hunter and equitation horses show with braided manes and tails, particularly at rated competitions. The mane hosts 20-40 small braids tied up with yarn or thread while the dock of the tail is braided into a "French" style braid which runs the length of the tailbone, while the remainder of the tail is unbraided. If braiding is not possible, the mane generally lays neatly and flat on one side of the horse's neck.
The common belief is that braiding shows off a horse's neck and conformation, giving it a sleekness and show quality that adds to the presentation package in the arena. Competitors pay a professional braider for the service. Some exhibitors do the braiding on their own horses themselves. We asked judges how they feel about braided horses versus unbraided horses in the show ring and if it adds/detracts from a presentation or score.
Judges' Answers to this question: