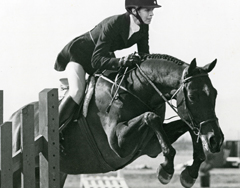 Hunter Derby
QUESTION: What do you like to see in a derby horse? What do derbies do or should do for the hunter industry? Are the courses getting too tough for hunters and inviting equitation horses and jumpers?
Hunter Derby classes have gained popularity at many AA and A-rated competitions, offering prize money and a two (or more) round format. A minimum of two judges utilize the open numerical system to score competitors and are evaluating performance, hunter pace, jumping style, quality and substance, and movement.
Obstacles are reminiscent of the hunt field and offer a variety of appearances, such as natural post and rail, stone wall, white board fence or gate, coop, hedges, logs and natural foliage. Natural obstacles such as banks and ditches are allowed. Often a Handy Hunter Round simulates riding over hunt country and the course incorporates options such as tight turns, clever options for jump approaches, hand galloping and trotting a fence. The highest-scoring (usually 12) horse-and-rider combinations after the first round are eligible to return for the second round. The pair with the highest two-round score is declared the class winner.
Derbies add additional challenge and prestige to the hunter division and attract top hunters and riders across the country. Our judges comment on judging this event and its impact to the industry.
Judges' Answers to this question: