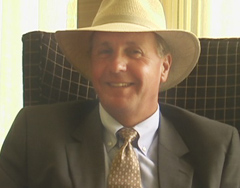 Russell Frey
Russell Frey and his wife ran the hunter/jumper training stable Elysian Fields in Fulshear, Texas. Russell's judging venues include the Winter Equestrian Festival, Ocala, Detroit, Kentucky and the Devon Horse Show. He has trained students to ribbons in the Equitation Finals, and trained and shown successful hunters. His championships are numerous including the Winter Equestrian Festival, Lake Placid, Upperville, Kentucky, Capital Challenge and the Pennsylvania National Horse Show.
Frey finished the 2016 spring season earning the top honors in the WEF USHJA $50,000 International Hunter Derby aboard Moore's Kodachrome. Frey started the horse on a winning streak, earning blue ribbons in the USHJA National Hunter Derby at Equifest II and the Showplace Fall Classic in 2015, with a second place finish in the Award Winning Chicago Hunter Derby's National Hunter Derby. By WEF 7, they had moved up to earn the Reserve Championship in the First Year Green and the High Performance Working Hunters. They wrapped up WEF 12 winning both rounds and the overall of the $50,000 USHJA International Hunter Derby.
Frey had also been known to show up at top AQHA shows including the Quarter Horse Congress and World Championships, to school top quarter horse riders.
Sadly, Russell passed away suddenly in May of 2016.