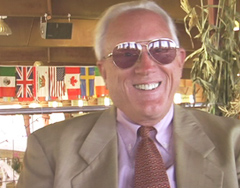 Walter "Jimmy" Lee
Walter "Jimmy" Lee is an Internationally renowned hunter judge, trainer, breeder and is held in highest regard by his industry peers. As owner and trainer of seven USEF (formerly AHSA) Grand Hunter Champions, Mr. Lee's positions have included Chairman of The National Show Hunter Hall of Fame, Vice-Chairman of the International Horsemen's Advisory Committee, past president of the Virginia Horse Shows Association, and board member of the AHSA and The American Horse Council. Additionally, he has been Vice-President of the Virginia Horse Industry Board and serves on the board of the International Hunter Futurity. He formerly served on the Hearing Committee, Licensed Officials Committee, Executive Committee, Nominating Committee, Drugs and Medications Committee and Clinics Committee of the USEF organization.
Mr. Lee is a Senior Judge with USEF which is the governing body for the United States Federation Equestre Internationale. He has judged at all major shows (Madison Square Garden, Devon, Harrisburg) in the United States and Canada and has also given judging and riding clinics for the USEF and The Canadian Equestrian Federation and has judged the Royal Dublin Horse Show.
He has trained over 125 VHSA year end champions and AHSA Horse of the Year Champions including Jet Run, South Side, Catalyst, Allegro, Free Ride, Doc O'Day, Macho, Obi-1-Knobee, and Scot To Do. In addition, Mr. Lee has trained Jumper Champions at the Pennsylvania National Horse Show at Devon and The Washington International Horse Show at Washington, DC.